Capital Relief Trades Virtual Panels
SCI will host Capital Relief Trades discussion panels online to provide a much needed information platform as we wait for live events to return later in the year. Join us as we offer these exciting panels over the next several weeks.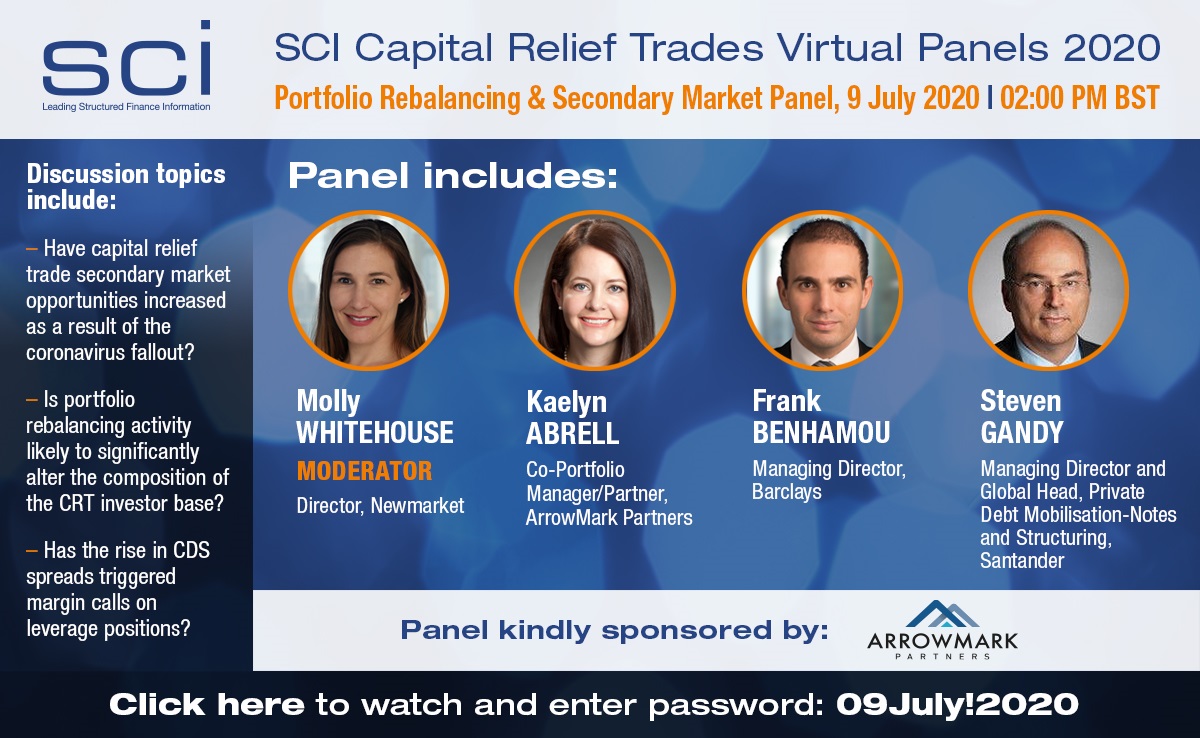 Portfolio Rebalancing & Secondary Market Virtual Panel
9 July 2020, 02:00 PM BST
— Have capital relief trade secondary market opportunities increased as a result of the coronavirus fallout?
— Is portfolio rebalancing activity likely to significantly alter the composition of the CRT investor base?
— Has the rise in CDS spreads triggered margin calls on leverage positions?
Panel includes:
Molly Whitehouse - Newmarket (Moderator)
Kaelyn Abrell - Arrowmark

Frank Benhamou - Barclays

Steve Gandy - Santander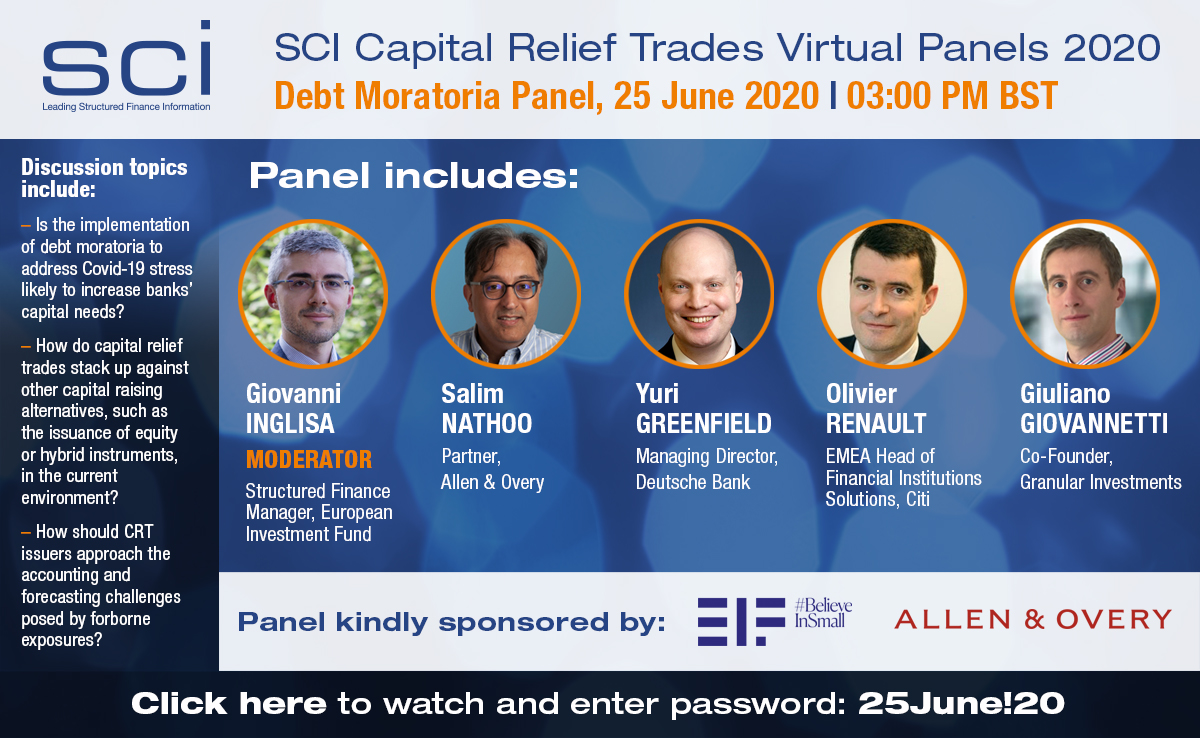 Debt Moratoria Virtual Panel
25 June, 2020 03:00 PM BST
— Is the implementation of debt moratoria to address Covid-19 stress likely to increase banks' capital needs?
— How do capital relief trades stack up against other capital raising alternatives, such as the issuance of equity or hybrid instruments, in the current environment?
— How should CRT issuers approach the accounting and forecasting challenges posed by forborne exposures?
Panel includes:
Giovanni Inglisa, Structured Finance Manager, European Investment Fund (Moderator)
Salim Nathoo, Partner, Allen & Overy

Yuri Greenfield, Managing Director, Deutsche Bank

Olivier Renault, EMEA Head of Financial Institutions Solutions, Citi

Giuliano Giovannetti, Co-Founder, Granular Investments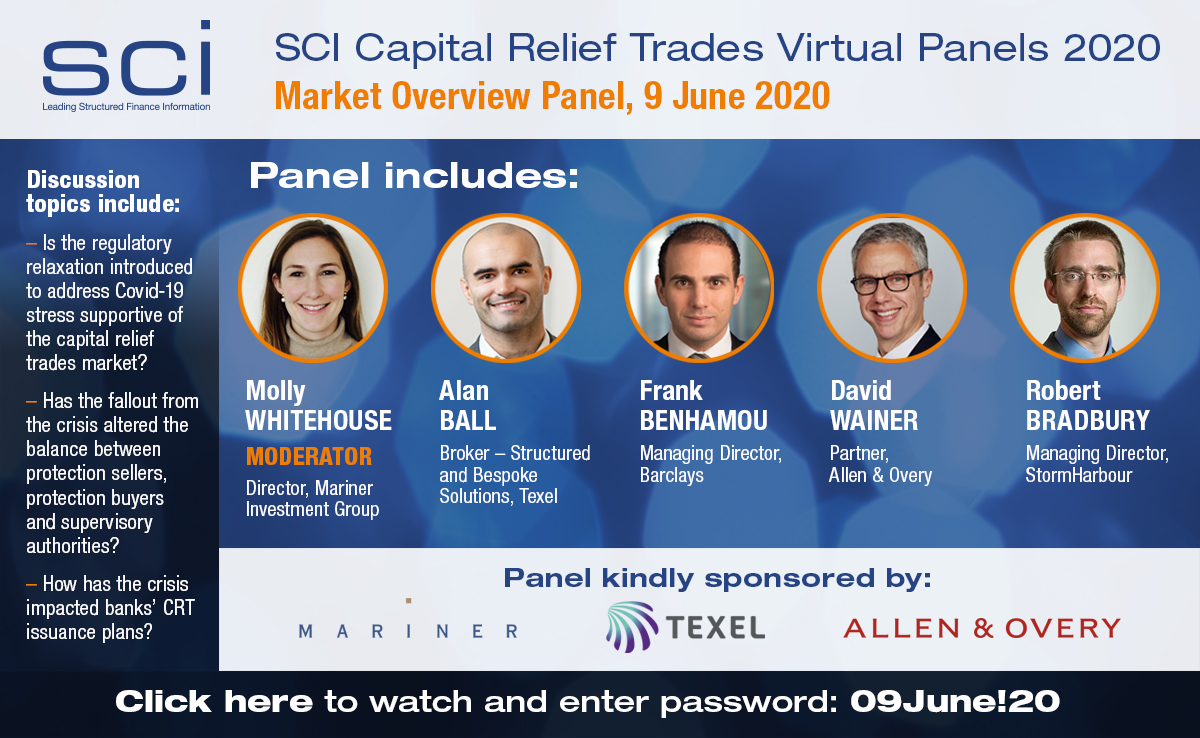 Market Overview Virtual Panel
— Is the regulatory relaxation introduced to address Covid-19 stress supportive of the capital relief trades market?
— Has the fallout from the crisis altered the balance between protection sellers, protection buyers and supervisory authorities?
— How has the crisis impacted banks' CRT issuance plans?
Panel includes:
Molly Whitehouse - Director, Mariner Investment Group (Moderator)
Alan Ball - Broker, Structured and Bespoke Solutions, Texel
David Wainer - Partner, Allen & Overy
Robert Bradbury - Managing Director, StormHarbour
Frank Benhamou - Managing Director, Barclays